New Tires & Fuel Pump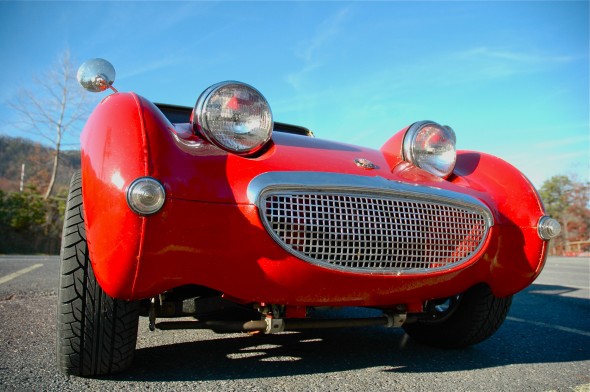 I am a little late recording this, but in September 2010 the Bugeye's shoes were replaced. While the tread on the Wynstar tires looked just fine, they were over eight years old, so for safety sake it was time to replace them. The same tire was no longer available, so the Bugeye now has some P185/60R13 80 H Sumit HTR 200. These tires are not the same low profile as the Wynstars, but the ride is superior and the grip firmer than before. Details are available on the maintenance page of this site.
The Sprite was neglected a bit over this winter, so when a warm day came round near the end of February, it was time to start her up and give her a good run. Alas, no joy! Either the SU fuel pump was not sucking fuel or there was a clog in the line. After a few diagnostics, it became clear the fuel pump was the culprit. A negative ground electronic SU was ordered from Moss Motors and installed. While messing with the pump, it seemed the ideal time to switch out the old rubber fuel hose for a new hose that is no susceptible to deterioration from ethanol. That done, the Bugeye is now happy and running once again!
This entry was posted on Saturday, March 3rd, 2012 at 1:02 pm. It is filed under Bugeye, Bugeye Blog and tagged with Austin Healey, bugeye, Fuel Pump, Sprite, Tires. You can follow any responses to this entry through the RSS 2.0 feed.