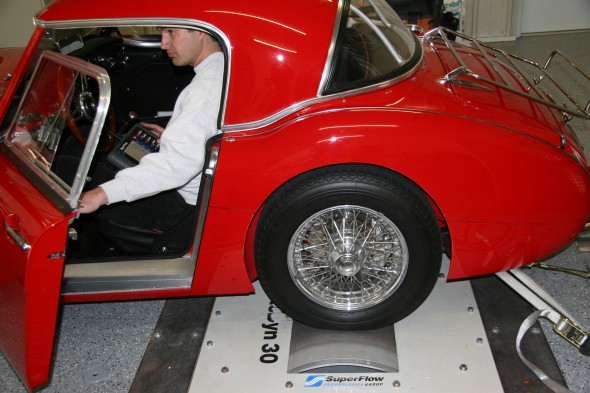 VIPER Performance Lab
I read about the Virginia Institute for Performance Engineering and Research (VIPER) at Virginia International Raceway (VIR) in the January 2009 issue of Classic Motorsports. VIPER is a joint venture involving Virgina Tech, Old Dominion University, VIR and the Institute for Advanced Learning and Research. Being only about three hours away, I decided to visit VIPER and make some dyno runs to determine the performance statistics for "The Bloody Beast" and to try to improve the timing and carb tuning to enhance performance. Victor Seaber was the engineer with whom I worked. He was assisted by Corey.
"The Bloody Beast" isn't a race car so peak power and maximum performance weren't too important to me. I told Victor to only push it to 4,500 rpm. I was much more interested in having the car run efficiently at highway cruising speed, say 65-70 mph.
I had read about performance results for other Healeys and was prepared to discover that horsepower and torque ratings were optimistically stated in factory publications. My actual performance data confirmed what others had concluded.
Rear wheel HP was 113.2. I was taught to calculate flywheel output by dividing the rear wheel output, 113.2, by .85 (the 15% drivetrain loss on a solid axle car) giving 133.2 hp at the crank.
Rear wheel torque 146.8
Disappointment of the day – there was no instrumentation (digital or analog) that could measure the smile on my face from driving "The Bloody Beast" the three hours from my home to the lab!
Most satisfying experience of the day – We changed almost nothing about the setup of the car. We experimented with timing (but returned to original setting) and did enrich the mixture at high speed ever so slightly. So, I was happy to have my previous work validated rather than disappointed with how out of tune the car might have been.
zz