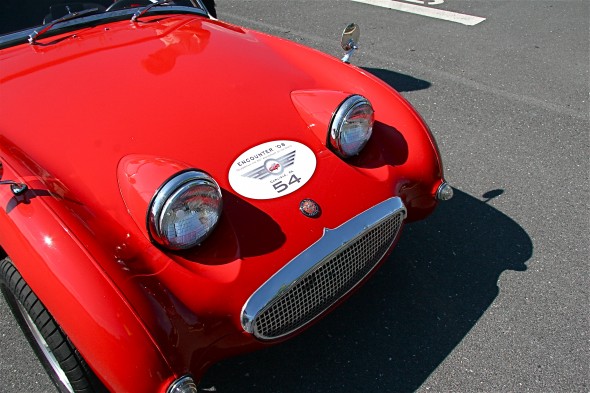 The Austin-Healey Sports and Touring Club – A Car Club for Healey, Austin-Healey, and Austin-Healey Sprite Owners and Enthusiasts with regions in New York, Pennsylvania, Delaware and New Jersey always puts on a great annual event referred to as "Encounter." The event is held in August of each year. A judged Concours, popular vote car show, a rallye, tech sessions, a gymkhana, funkhana, valve cover races and a flea market are just a few of the usual events. Click the image to the left to view a slide show of the 2008 event held in Carlisle, PA.
My dad and I attended this year. I drove the Bugeye and he drove the "Bloody Beast," his recently restored 1960 Austin Healey 3000 BT7, from Harrisonburg. We couldn't attend when the event got started, but we headed up to Carlisle at about 5:30 am Friday morning, attended activities on Friday and Saturday and headed home Sunday morning. We enjoyed the great weather, and had a wonderful time. I had fun at Del Border's gymkhana course and the "Bloody Beast" took home first place in the MK I category for the popular car show.
This is a little video of one of my Gymkhana exploits. I missed a gate, but what the heck. I had a lot of fun and that is what it is all about.
The Hotel Carlisle also hosted the owners of a number of modified trucks the weekend of Encounter, as they were having a show of their own at the Carlisle Fair Grounds. This photo shows one "Encounter" between a Healey 100 and one of the trucks.
The famous female race car driver, Janet Guthrie, was the featured speaker of Encounter 2008. One of the topics of her remarks was the Sebring Sprite. This is a photo of one of those Sebring Sprites.