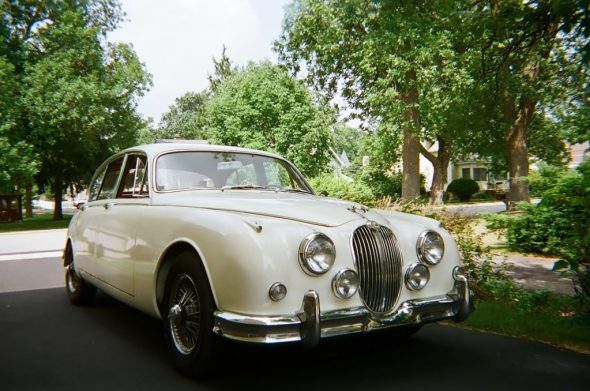 The Inspection
While doing research on the internet about a completely unrelated subject, I happened on a message from a young man who notified the readers in the forum that his grandfather's 1964 Jaguar MK2 was for sale. Although I had planned on restoring another Big Healey, my curiosity was piqued because I had always liked the design of this model Jaguar, and while secondary, I also had an interest in restoring a car in which my young grandchildren might actually be able to ride. After several email exchanges and a phone call or two, my brother, Tom, and I ended up driving to Hebron, IN on January 1, 2010 to take a look. It was not an ideal day to shop for a car – the temperature was 4 degrees with wind chill of -15! Perhaps that served to move negotiations along.
I was hoping to find this, but we happily settled for the MK2!
We were able to start the car despite the cold weather and did take it for a short drive of a few miles. Very leaky exhaust, very cold Moss gearbox, and soft brakes but hey it ran! These are a few images of the car as we inspected it:
The Purchase
I purchased the car and then returned to Hebron on Saturday, January 16 with a truck and trailer and picked up the Jaguar. My wife, Judith, was a great sport and traveled along through 26 hours of driving over two days. The car was purchased from Bob and Grace LaFrey, 15314 S. Grove Rd, Hebron, IN 46341. The LaFreys were the second owners of the car and had owned it for approximately 20 years. They purchased the vehicle from a Californian, D. A. Kubacki. The LaFreys had the original "Registration of Ownership" that identifies the car on the USA Warranty as: Chassis: 223715 DN Engine: LC 9621-9 Gearbox: GBN 80480 JS Ignition/door key: FS949 Boot Key: FS921
The first chassis produced in 1964 was 223267, so my car was an early 1964 model.
I requested and received the Jaguar Heritage Certificate for my MK2. The certificate confirmed the car's matching numbers. The engine number is also stamped on the right hand side of the block just above the oil filter. The gearbox number is stamped on the shoulder of the box at the left hand rear corner of the casing and on the top cover.
The Bill of Lading dated June 1964 indicates that the car was shipped from Liverpool on the Japanese ship "Sade Maru." The car was shipped to San Francisco and delivered to Captain D. A. Kubacki, 5711 Benicia Dr., Riverside, CA. A Lloyd's of London insurance certificate included in the papers the LaFreys gave me indicated the Jaguar was insured for 1,600 pounds. Apparently the car received minor damage to the driver's side lower doors, as an inspection report indicated that the lower driver's door, post and lower rear door were dented and scraped with estimated damages of $28.00. Other documents received with the Jaguar included: A Smith's Radiomobile, Model 900T Series warranty certificate A license plate decal for California dated 1989 A September 1964 English License disc. A number of receipts for various maintenance parts including such items as brake discs, pads and rotors; clutch rebuild components, shocks, gaskets, bushings and seals. I am not certain when it was done, but all seat and console upholstery was redone by the LaFreys fairly recently in the cars history.
The Plan
In May 2009 I took the recently completed "Bloody Beast" – my 1960 BT7 – on a cross-country trip. I traveled with three other fellows with their cars: a 1970 Corvette, a 2002 BMW Z8, and a 2009 Maserati GT. We drove 8,000 miles over the course of 32 days. Following my "Going Mobile" journey, my initial "Healey thoughts" were devoted to cleaning up the car that had left Rehoboth Beach, Delaware in pristine show caliber condition and arrived back in Harrisonburg, Virginia in great shape, but with the expected road grime, bugs and paint chips! However, it wasn't long before I began thinking about what my next project might be.
I love driving a vintage car, but I am the first to admit that I like the conveniences of modern automobiles for daily driving. For this project I thought, "why not combine the two?" The Jaguar MK2 seems to be the perfect vehicle to update and personalize. It has classy lines and comfortably seats four, and because it is affordable to buy it is not so difficult to rationalize the acceptability of modifying the car for safety, performance and comfort.
The research has yet to be done, but I intend to air condition the car and update the steering with a power assisted rack and pinion set up. Other enhancements will surely include an improved sound system, upgraded brakes and I would like to acquire a set of the reclining seats that were available as an option in the MK2 and were standard on the "S-Type." This should be fun. Other than some additional updated electronic items the car will basically appear as it did when produced in 1964! I look forward to driving this new project every day.There are a number of specialists Jaguar vendors who provide upgraded components for the MKI2. J.D.Classics and Classic Motor Cars, Ltd. are two such examples.
I will use this "Restoration Blog" to provide a week by week (or at least, entry by entry) account of the disassembly and reassembly of this beautiful Jaguar. I would love to have your feedback!
Cheers,
Lin Rose, Harrisonburg, VA