Alfa Introduction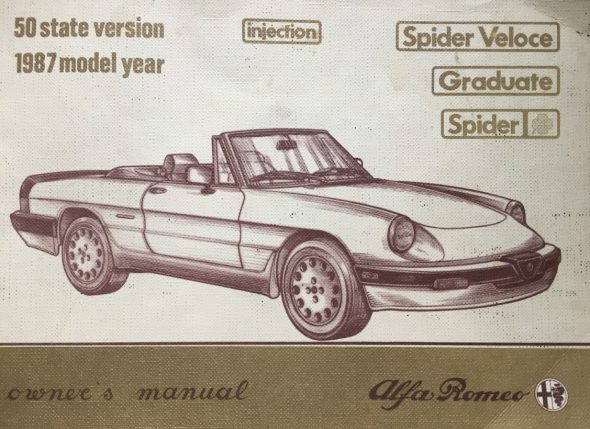 My 1987 Alfa Romeo Spider Quadrifoglio was acquired by gift! My father decided to pass along his "Alfie" to the next generation. So in July, 2016 I traveled from Virginia to his home in North Carolina and trailered home the newest member of my modest collection of classic cars! I certainly could have driven it, as it is in wonderful condition, but not being really familiar with the car I thought it best to trailer it home. It is nice to now have an Italian joining its British and German stablemates.
Previous Ownership
It seems that Victoria Hicks purchased Alfie as a new car with 35 miles on the odometer on March 7, 1987 from Robert Rueman, Inc. in Toluca Lake, CA . The cash price (including taxes) of the purchase was $23,451.
Ms. Hicks apparently moved to Connecticut sometime between 1987 and July of 1989. A Bill of Sale confirms the sale of Alfie to Margaret W. and Alfred H. Lupton, IV of Brookfield, CT on June 29, 1989 for $15,000. The car still had a California license plate at the time and the odometer reading was 19,856 miles. An extended warranty from Alfa Romeo, Inc., Englewood Cliffs, NJ was transferred to the Luptons at the time of the sale. Alfie was then registered in Connecticut on August 3, 1989 by the Luptons with 20,456 miles on the odometer. The Connecticut Title is dated August 17, 1989.The Luptons may have been coveting the idea of purchasing a Spider because this ad was found in the folder of materials acquired with the car, dated four days before the Bill of Sale from Ms. Hicks:
The Lupton's also had this New York Times article in the file folder of maintenance records that came with the car. Just an interesting little piece of automotive history!
Without more records research, one can only guess when the Lupton's sold Alfie to the next owner. I have no sales/purchase information about the transfer of ownership, but apparently John Painter acquired the car in around 2010. Service records indicate that Mr. Painter had service completed on Alfie beginning in October 2010 and I have a record of a parts order from him in February 2011.
My father, James R. Rose, III of Banner Elk, NC purchased Alfie from Aurio (Al) Lorenzo in November, 2012. At the time, the car had approximately 69,300 miles on the odometer. I do not know when Mr. Lorenzo purchased the car, but it was shipped from Performance Imports in Danbury, CT by RAD Transport to his address in Gibsonville, NC. Unfortunately, there is no date on the shipping manifest. The earliest receipt for parts/service that I have in his name is dated May 1, 2012. The last service/parts purchase by Mr. Lorenzo for which I have a record is dated from September, 2012.
My dad enjoyed Alfie until the summer of 2016, when in July he passed him along to me. There were 70, 404 miles showing on the odometer at the time of the transfer.
Oh, don't be worried about my father. He may be ninety, but he still has a 12 cylinder, 1990 Jaguar XJS and a beautiful little VW Beetle to keep him occupied:
Maintenance Records
Fortunately, Alfie came with a pretty thick file folder of maintenance records dating from the original owner. It is always nice to have these records to have an idea of the degree to which a car has been properly maintained throughout its life.