November 11, 2017 – The Find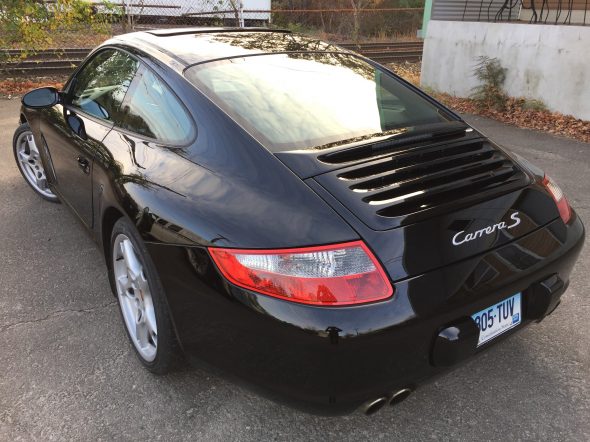 Almost every Saturday morning David Silberkleist, owner of BugeyeGuy.com sends out an email newsletter to his subscribers. As you would expect, it is usually full of information about Austin Healey Bugeyes including a few advertisements for cars for sale. On this particular day there was an unusual posting for David. His newsletter included a brief article on a 2005 Porsche 911 Carrera S with under 7,200 miles on the odometer that he had for sale. This is a pdf file from his website that describes the car:2005 Porsche 911 Bugeyeguy.com advertisement
I emailed him that afternoon and that started a conversation that by the following Monday morning ended up with an agreement between us with a purchase price of $46,000. We had a conversation about the possible need to change out the Intermediate Shaft (IMS) bearing as this was a problem on this series of Porsche 911s. I sent David a $500 deposit.
November 16, 2017 – The Purchase
I pulled my featherlight trailer to Branford, CT to pick up the Porsche. Turned out to be a pretty easy drive and took about 7 hours. I left early and arrived about 1:00 pm, grabbed some lunch and then dropped in on David and his business. David gave me tour of his shop, introduced me to his staff, and showed me some of the Bugeyes they were working on at the time.
We then drove a short distance to a storage building David rents to see the Porsche as well as the cars in David's private collection including a couple of big healeys, two MGA's a Lotus, another 911 Targa, a Morris Minor Wagon among others.
David gave me a "go around" on the car and pointed out that he had installed a new battery. After checking things out, he drove the car over to his primary shop and we loaded the 911 onto the trailer. This required raising the trailer at the front and placing some lumber at the loading ramps so that the front lip would not hit the trailer as it was driven up. We then got her strapped down (not easy to do in the rear!) and I was ready for the trip home.
David mentioned that he had purchased some Pirelli tires for the car but had not yet installed them and he was intending to send them back.To save mailing expenses later when I would order tires, I decided that since I had room in my MB GL450 I would go ahead and purchase the tires ($1,150). The car still had its original Michelin tires that were too old to be safe.With everything buttoned up, I drove over to the Branford Holiday Inn Express and checked in for the evening. I got tucked in for the night and ready for the trip back to Virginia the next morning.
There was a great pizza restaurant next to the Holiday Inn so I settled in for a while with my Porsche Owner's Manual, a few beers and a great pizza! I discovered the original window sticker in the Owner's Manual: